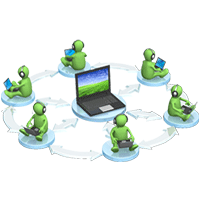 VoIP Communication is Built for Businesses
Voice over Internet Protocol is easy to use, cost-effective, and flexible.
Having a capable phone system is essential for a growing business. Fully-featured VoIP solutions from Inispace are able to offer your business major cost-benefits since it utilizes your Internet connection for all of your organization's communication needs. One of the most noticeable advantages that our VoIP system can offer a business like yours, is the incomparable savings you'll see. In fact, you can see a cost reduction of up to 70% off your current phone bill. In this way, our VoIP solution pays for itself.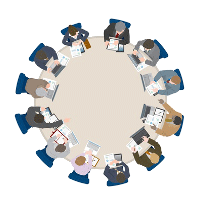 Valuable Conferencing Solutions
The prevalence of mobile computing demands that companies like yours have a solution to conduct meetings when members of your team are out of the office.
In order to keep their teams connected, many companies are learning to lean heavily on various conferencing solutions. In today's marketplace, mobility is essential. Instituting a streamlined conferencing solution can keep you and your staff on the same page which helps maintain team continuity. Inispace is your one-stop-shop for all your information technology needs. We can get you set up with the conferencing options that best meet your company's needs. The conferencing capabilities offered by Inispace, is just another way that we are able to deliver solutions that increase productivity, fuel efficiency, and save your organization money.